Become a Wall Street Prep Campus Ambassador
Power-charge your resume, gain professional experience, expand your professional network and earn cash.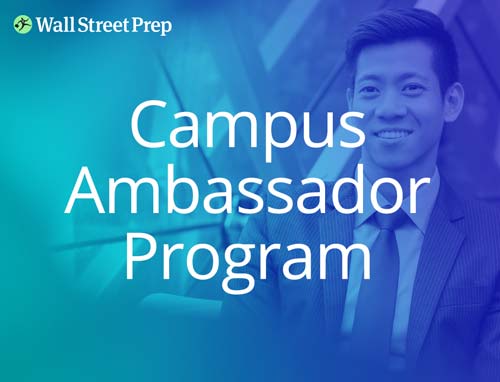 Become a Campus Ambassador and get your career started!
The Wall Street Prep Campus Ambassador Program provides college students with the opportunity to gain professional experience, earn cash and free Wall Street Prep courses, while building a professional network by spreading awareness about Wall Street Prep's financial modeling courses, finance career resources and upcoming on-campus events.
Responsibilities
You will work directly with Wall Street Prep's Director of University Programs to:
Attend on-campus finance career events and let attendees know about how Wall Street Prep's programs can help prepare them for finance careers
Educate your school's finance club leaders about Wall Street Prep programs and arrange discounted group pricing for finance club members
Connect Wall Street Prep with finance faculty and your school's career center to discuss Wall Street Prep online training programs and on-campus financial training seminars.
Create and distribute promotional materials on campus and through social media to raise awareness about Wall Street Prep programs and events.
Benefits
Cash compensation for on campus activities that directly generate revenue for Wall Street Prep.
Real-world, resume-boosting professional business development experience.
Access to Wall Street Prep's financial modeling and interview prep courses.
Resume and LinkedIn profile review and LinkedIn recommendations.
Mentorship from former finance professionals and other professional development opportunities.
We are looking for students who...
Are interested in a career in finance or business development.
Excel at making connections and influencing others.
Know how to build relationships in the student body and have/can quickly develop a rapport with instructors and administration.
Maintain a high GPA.
Are enrolled in U.S. or Canadian college.
Can commit to 20 hours per semester to Wall Street Prep promotional activities.
Apply Yourself or Nominate a Student
To apply for the Campus Ambassador Program, visit our job posting by clicking the link below:
X
The Wall Street Prep Quicklesson Series
7 Free Financial Modeling Lessons
Get instant access to video lessons taught by experienced investment bankers. Learn financial statement modeling, DCF, M&A, LBO, Comps and Excel shortcuts.