The 13-Week Cash Flow Model
You don't have access to this course, but you can purchase it below.
Why You Should Take This Cash Flow Modeling Course
What You Will Learn
Integrated 13-Week Cash Flow Modeling
Working Capital & Other Rollforwards
Borrowing Base & Revolver/DIP Modeling
Reconciling EBITDA to the 13-Week Cash Flow
Case Manager and Multiple Scenarios
Converting Monthly to Weekly Forecasts
General Ledger Accounting Mapping Best Practices
Complete 13-Week Cash Flow (TWCF) Training
This course is a step-by-step buildup of a fully integrated 13-week cash flow model in the context of a turnaround and financial restructuring.
Excel Model Template Included
Includes a reusable, fully-integrated 13-Week Cash Flow Model.
Not Just Concepts – Real World Modeling
Using a case study, you will build a fully-integrated model as you would on the job. This is the only course available that teaches complex model mechanics for a 13-week cash flow model while weaving the motivations of the various stakeholders during both in court or out of court turnarounds.
This course is used to train new hires at:
Who is This Program For?
Turnaround Consultants & Advisors
Restructuring Investment Banking Professionals
Distressed Debt Investors
FP&A and Corporate Finance
Private Equity Professionals
Course Highlights
Taught by Experienced Professionals
Our instructors are former finance professionals and consultants who know what it takes to build great looking decks during deals and client engagements.
The Same Employee Training Used at Top Firms
This is the same course our corporate clients use to teach their finance professionals and consultants how to build better pitchbooks and client decks.
Breeze Though Lesson Videos at 1.5x & 2x Speed
Save loads of time by bumping up playback speed to breeze through lessons at your own pace.
Get Instructor Support Throughout the Course
Have a question on course content? Communicate directly with instructors by asking questions throughout the course.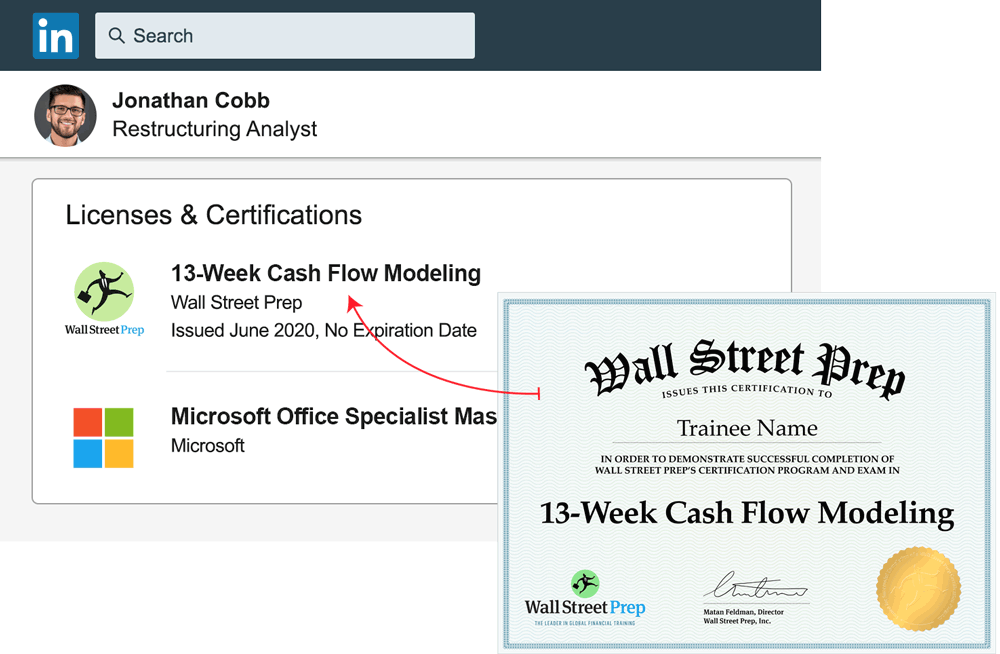 Get the 13-Week Cash Flow Modeling Certification
Trainees are eligible to take the WSP 13-Week Cash Flow Modeling Certification Exam for 24 months from the date of enrollment. Those who complete the exam and score above 70% will receive the certification. The exam is a challenging 1-hour online examination covering the most difficult concepts covered in the program.
Course Samples
Getting organized with the TWCF
Modeling 30000 foot view
Building a case manager into a TWCF
Course TOC
1. TWCF Course Welcome
5:56
2. Course Downloads
Files
3. Introduction to the TWCF
5:56
4. TWCF as a decision making tool
4:40
5. An example of a TWCF AHP
4:58
6. Non-operating disbursements
2:03
American Home Products Case Study
8. AHP case study introduction
6:08
9. AHP Case Study: 363 sale "Stalking Horse Bidder"
3:09
10. AHP case study: Credit bidding
3:53
11. AHP Case Study: The role of the TWCF
4:42
Introduction to TWCF Modeling
12. Introduction to TWCF modeling
3:50
13. Introducing the TWCF model case study
4:25
14. Catalyst for distress
2:29
15. Getting organized with the TWCF
4:23
16. TWCF model architecture
2:41
17. Company information provided
3:52
TWCF Modeling Step-by-Step
18. Modeling 30000 foot view
3:20
20. Modeling disbursements
6:19
21. AR rollforward complete
5:02
22. Non-receivables receipts
6:09
23. Forecasting employee wages
2:55
24. Payroll Excel solution
2:02
25. Wages payable rollforward 1
2:34
26. Wages payable rollforward 2
2:43
27. Inventory rollforward intro
4:11
28. DOH and inventory turnover
3:18
29. Interpreting inventory KPIs
1:09
30. Building the inventory rollforward
10:27
31. Accounts payable rollforward intro
1:14
32. DPO calculation and KPI discussion
2:27
33. Building the AP rollforward
3:01
34. Forecasting inventory disbursements
3:22
35. Rent utilities other disbursements
1:26
36. Modeling other disbursements
2:59
37. Modeling non-operating disbursements
3:40
38. Capital expenditures
1:12
39. Professional fees 1
2:13
40. Professional fees 2
0:54
41. Interest payable and debt rollforwards
5:04
42. Completing the pre-revolver TWCF
6:21
Borrowing Base and Revolver
43. Borrowing base modeling
8:32
44. Borrowing base solutions
4:10
45. Revolver mechanics
4:59
46. Modeling the revolver
12:23
47. Modeling revolver interest
6:56
48. Avoiding a circularity
2:49
49. EBITDA reconciliation
5:01
50. Modeling EBITDA to cash flows 1
4:55
51. Modeling EBITDA to cash flows 2
3:42
Case Manager and Sensitivity
52. Building a case manager into a TWCF
8:15
53. Integrating cases into the TWCF
9:38
54. Sensitizing individual drivers
3:17
55. Most common TWCF complexities
0:55
56. Working with messy data
2:34
57. Commingled line items
2:43
58. Forecasting a Messy Monthly IS 1
5:42
59. Forecasting a Messy Monthly IS 2
5:54
60. Forecasting a Messy Monthly IS 3
2:00
61. Converting Monthly Data to Weekly 1
13:14
62. Converting Monthly Data to Weekly 2
13:29
63. Remodeling: Updating TWCF for new weeks
9:14
Account Mapping Using SUMIFS
65. Using UNIQUE to map accounts
5:37
Earn CPE Credits with WSP Online Courses
Wall Street Prep is registered with the National Association of State Boards of Accountancy (NASBA) as a sponsor of continuing professional education on the National Registry of CPE Sponsors. State boards of accountancy have final authority on the acceptance of individual courses for CPE credit. Complaints regarding registered sponsors may be submitted to the National Registry of CPE Sponsors through its website:
www.nasbaregistry.org
.
X
The Wall Street Prep Quicklesson Series
7 Free Financial Modeling Lessons
Get instant access to video lessons taught by experienced investment bankers. Learn financial statement modeling, DCF, M&A, LBO, Comps and Excel shortcuts.